Inmate Record Check
Arrests, Mugshot, Jail Roster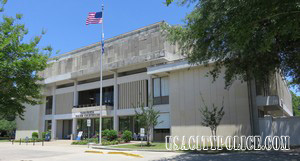 Search for Police Arrests in Hammond City, Louisiana. Results may include: Arrest Date, Charge, Bond Amount, Jail ID, Mugshot.
Hammond, Louisiana Jail and Mugshot Information
Hammond, Louisiana is the largest city in Tangipahoa Parish. It is located 45 miles east of Baton Rouge and 45 miles northwest of New Orleans. The county seat of Tangipahoa Parish is Hammond. The population of Hammond estimated at the 2016 census was 20,609. Hammond is home to Southeastern Louisiana University.
Hammond was the shoe-making center for the Confederate Army. The factory was developed by Charles Emery Cate who bought land for a home, a shoe factory, a tannery, and a sawmill. Cate developed the town's grid and used the rail line as a guide. Several of the streets in Hammond are named after his sons.
At the end of the 19th Century, the city became a stopping point for northern rail passengers traveling south and for New Orleanais heading north. Hammond became a shipping point of strawberries and earned the name of Strawberry Capital of America.
During WWII, the Hammond Airport was a detention camp for prisoners of war from Nazi Germany. The U.S. Army also established and used the 15,216-acre airport as the Hammond Bombing and Gunnery Range.
Currently Hammond is the backup landing site for Louis Armstrong New Orleans Airport and is the major trining site for the Louisiana Army National Guard. It is home base for the Louisiana Air National Guard's 236th Combat Communication Squadron.
You can visit the Tangipahoa African American Heritage Museum in Hammond as well as visit Southeaster's Columbia Theatre in the center of Hammond Historic District.
Hammond, Louisiana
Pete Panepinto Mayor
PO Box 2788
310 E. Charles St.
Hammond, LA 70401
Phone: 985-277-5600
The crime index in Hammond, La is 926.5 crimes per 100,000 residents. Hammond is 99.1% higher in crimes compared to other U.S. cities.
In 2016 there were 7 murders, 12 rapes, 59 robberies, 208 assaults, 627 burglaries, 1,412 thefts, 92 auto thefts, and 3 arsons in Hammond.
There ae 125 registered sex offenders in Hammond as of September 2018. The ratio of residents in Hammond to the number of sex offenders is 164 to 1.