Inmate Record Check
Arrests, Mugshot, Jail Roster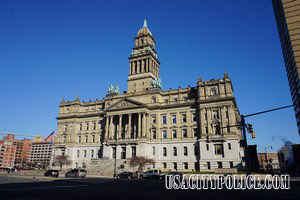 Search for Police Arrests in Wyandotte City, Michigan. Results may include: Inmate ID: Gender: Jail Location: Birth Date, Booked: Charges, Bond Amount, Bond Type, Charges, Court, Mugshot.
Wyandotte, Michigan Jail and Mugshot Information
The City of Wyandotte, Michigan has a population of 25,883. The mayor as of 2018 is Joseph R. Peterson. His email address is mayor@wyan.org. The city can be found in Wayne County.
Joseph R. Peterson
3200 Biddle Avenue,
Suite 300
Wyandotte, MI 48192
Email: mayor@wyan.org
The crime index of Wyandotte, as reported by a 2016 statistic, was 133.3. There has been 64 registered sex offenders living in the city, with the residents-sex offender ratio at 390 to 1. The number of registered sex offenders compared to the number of residents in this city is near the state average.